We all love a bargain and when we offer our customers a coupon code for our website we are offering an irresistible invitation to join our inner circle. Coupon codes use the psychological magic power of giving to influence people to make snappier purchasing decisions.

Just view your favourite eCommerce or WooCommerce websites and you will see how popular coupons and discounts are. It's a no brainer! WordPress coupon codes have never been easier to implement and can be a huge advantage to your company with the potential to shake new customers off the fence and into your friendly customer community.
Coupon codes don't just help with getting new clients though. They can inspire extra existing customer loyalty.
Customer loyalty is a two way street. By giving a coupon to your customers you are giving them something special in return for their continued loyalty.
The next step is to implement coupons into your online store Giving your customers exactly what they are looking for. They save money and their loyalty will follow.
Why are WordPress coupon codes such a big deal?
Because they are great for your customers and your business growth rate! The customer gets what they want at a discount and you get to induct someone into your customer community. You can then promote further discounts and or new products to them. It is a win win situation.
Statistics on coupon codes:
By 2022, digital coupon redemptions are set to total $91 billion (Juniper Research)
Worldwide, 31 billion eCoupons are expected to be redeemed by 2019 (Statista)
Globally, the mobile coupons industry is slated to grow by 56.5% by 2025 (Orian Research)
We all want to save, it makes us feel good. We love to win! The statistics clearly show that people are wanting to cash in discounts online. They also show people love to save, put that together and you have a pressing need to find a new coupon code plugin. Never fear! We have collected the best plugins into a list for you.
Sure WooCommerce, the world's most popular eCommerce platform does have the ability to set up and use coupons but the functionality is so basic that if you want to do anything slightly complicated you'll need a dedicated plugin (like the below) or some customisations coded up by a developer.
2020 is shaping up as another year of cutting back and trimming down. Offering quality discounts is a great way to ensure customer acquisition, loyalty and satisfaction in the long term. It shows you are treating your customers as insiders
Discover our pick of the best premium and free coupon plugins for WordPress in 2020
1. Smart Coupons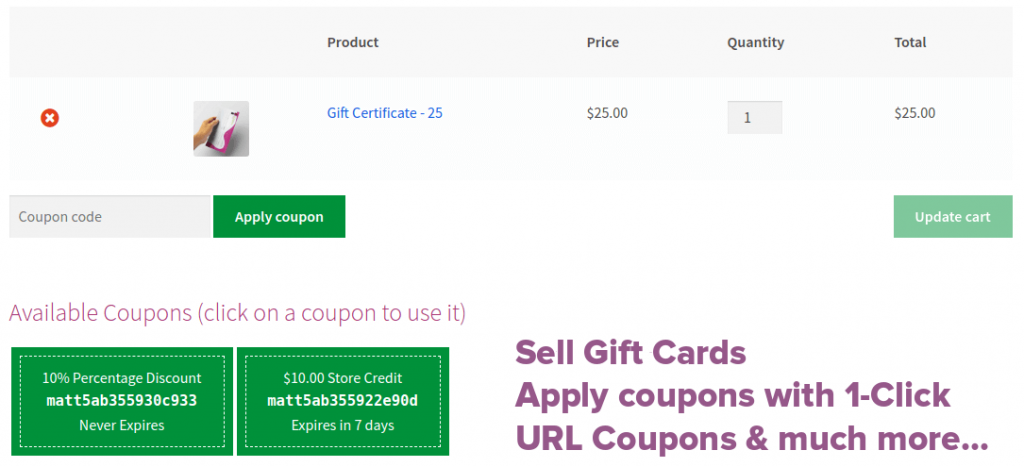 We love this plugin for so many reasons. It is a completely self-managed WordPress/WooCommerce coupon solution created by StoreApps, a WooCommerce official extension developer sold and marketed through the official WooCommerce website.
With thousands of plugins for WordPress it can be hard to find ones that are well made and supported that is why is it always good to choose an officially promoted plugin like this one.
Features of the Smart Coupons plugin that we love:
Give your customers a coupon after purchasing a product
Customise and create nice looking coupon designs
Allow your customers to use coupons with one click – no more entering coupon codes
Allow your customers to have store credit that they can use later
Sell gift certificates
Coupons for subscription products
Bulk generate coupons
Price: $99 single site
Plugin page: https://woocommerce.com/products/smart-coupons/
Pros:
A huge list of features
A complete coupon solution
Very highly rated with no 1 star reviews
Used by over 10,000 businesses and 5+ years of regular plugin support and updates
Cons:
Somewhat expensive
Might be overkill for some people's needs, powerful but not necessarily a simple solution
2. Coupon Creator Pro
Coupon Creator Pro is one of the more established WordPress coupon code plugins with over 120,000 downloads at the time of writing. The plugin is fairly well maintained with a pro version that packs a few much needed extra features.
In terms of the design, you are able to make your coupons look how you want to work with your business with a choice of borders.
The free version works well enough but if you want affiliate link click to reveal and expiring coupons you'll need to fork out $34 for the pro licence.
The Coupon Creator Pro really lives up to its name. You Create a very professional Coupon! Great asset to any business in this bargain obsessed world.
Features and Benefits of Coupon Creator Pro
Add an expiration date so you can add a start and end date to the coupon. Use the visual editor to edit your coupon super easily
You are able to display the Print View in a popup. That way you can print any coupons directly from the popup
Your Google Analytics Code can be added to the print template from the coupon options
Embed anywhere with a shortcode
Pro feature: click to reveal coupons that can auto-add affiliate links
Pro feature: recurring expiration – for example have your coupon set to expire on the 1st of the month and it will automatically renew on the expiry date or as chosen.
Price: $34 with a limited free version
Pro plugin page: https://couponcreatorplugin.com/
Free plugin page: https://wordpress.org/plugins/coupon-creator/
Pros:
Works very well with Woocommerce
Has been designed to transform a basic site into a fully functional coupon site
Easy to use and easy to customise for your individual customers
Cons:
The user interface and default designs of the coupons is not as nice as some of the other options here
Many of the key features are in the premium version only
3. Discount Rules for WooCommerce
If you are looking for something that gives your standard WooCommerce coupons superpowers then look no further!
The Discount Rules for WooCommerce plugin provides a bunch of extra options that WooCommerce does not have out of the box including category discounts, buy one get one free and dynamic discounts.
Features of the Discount Rules for WooCommerce plugin that we love:
Show discount tables on product pages
Offer buy one get one free and other niche or dynamic discounts including super specific cart discounts by percentage or by item number
Sale badges for products
Category discounts or product exclusions from discounts
Role-based discounts
Customer and/or purchase history specific discounts e.g. buy $1,000 worth of products and get a 10% discount
Price: $39 with a generous free version

Premium plugin page: https://www.flycart.org/products/wordpress/woocommerce-discount-rules
Free plugin page: https://wordpress.org/plugins/woo-discount-rules/
Pros:
Popular plugin with over 10,000 active installs of the free plugin
The premium version is very affordable compared to other options
Should be able to take care of almost all discount needs
Regularly updated with a very high rating in the WordPress plugin store
Cons:
An overwhelming amount of features if you just want to set up something simple
Lots of features does mean a lot of extra bloat to your website
4. Gift Up! Digital Gift Cards

Offering gift cards doesn't have to be a difficult process for you to manage. Gift Up! Digital Gift Cards helps you manage your cards via a separate online platform.
Gift Up! also integrates nicely with WooCommerce and is the perfect way to reduce website bloat and make it easier to manage gift cards as a standalone service.
Features of the Gift Up! Digital Gift Cards plugin that we love:
Works in store or online with their dedicated gift card application
Very fast payouts to help with cashflow
Accept multiple currencies
Custom gift card amounts
Custom gift card designs or choose from a beautiful gift card design library
Hosted solution, reducing complexity for you
Integrates with WooCommerce
Price: $0 to get started however Gift Up! does take a 3.49% cut of your gift cards which you can include in the price of your card or pass along as an additional fee to your customers
Plugin page: https://www.giftupapp.com/
Pros:
One of the most beautifully designed options
Very easy coupon and card management and easy on your website's loading speed
Enough features to offer a range of coupon codes but not too complicated
Can be used in person as well as online
Very quick and easy to get started
Cons:
Can be more expensive than other options due to the ongoing 3.49% fee for selling gift cards
Many people won't like outsourcing control of a critical business function to a third party application
5. Ninja Popups
This is a unique entry to the list because Ninja Popups is essentially a popup plugin that helps deliver coupons to users. At its heart it allows you to show your customers perfectly timed coupon codes to entice users to buy at exactly the time they need it most.
Even better is the amazing conversion driven designs that come built into the plugin so you will no longer need to spend hours coding up a coupon deliver that you think maybe/kinda/sorta converts. You can let Ninja Popups do the work for you.
Features of the Ninja Popups plugin that we love:
Drag and drop editor for easy customisation
A ridiculous amount of professionally designed coupon delivery templates
Dozens of email marketing and social network integrations
Exit intent and other dynamic coupon code delivery options
Unlock coupons with social and email shares
WooCommerce compatible
Price: $26 with no free option
Plugin page: https://codecanyon.net/item/ninja-popups-for-wordpress/3476479
Pros:
Easy to get started with an delivering well timed coupons to your customers and potential customers
65+ templates that are conversion focused so no need to worry about design
Very affordable compared to other options on this list
Cons:
Does not create coupons for you, you will need to use WooCommerce or another options to generate the actual coupon, this plugin only handles delivery of the coupon
Will add a lot of website bloat compared to a custom built solution
6. Coupon Generator for WooCommerce
This is a fairly old plugin with a very focused set of features that may work well for some people. Specifically this plugin is great for generating tens of thousands and up to 1 million coupons very quickly! This is something a lot of the other plugins don't really do.
This plugin does require WooCommerce to work properly and aside from its main function it doesn't have a lot of other extra features beyond the original WooCommerce coupon functionality.
Features of the Coupon Generator for WooCommerce plugin:
Generate up to 1 million coupon codes very quickly
Integrates and augments the basic WooCommerce coupon functionality
Price: free
Plugin page: https://wordpress.org/plugins/coupon-generator-for-woocommerce/
Pros:
Actively used by over 6,000 websites
A very focused plugin and therefore not a lot of extra code to slow down your website
Augments WooCommerce nicely
Cons:
Doesn't really do a lot other than one specific function
Has not been updated for 12 months
7. Magic WP Coupons
Not everyone wants to offer coupon codes for products that they sell on their own website. With Magic WP Coupons you can offer coupons and affiliate links to other websites in an easy management area of your WordPress website.
The other good thing is this plugin is standalone so there is no need to install WooCommerce or another eCommerce plugin if you don't have it already.
Features of the Magic WP Coupons plugin:
Set up affiliate links and coupons super quickly and manage them easily in one place
Get customer feedback by allowing users to vote up or down coupons
Coupon click analytics
Easily customisable with designs and custom CSS
Price: free
Plugin page: https://wordpress.org/plugins/magic-wp-coupons/
Pros:
Does one simple function without all the extra features
Quick to set up and get going with
Cons:
Somewhat old and clunky design
Has not been updated for over 12 months
8. Coupon Wheel
This plugin allows you to set up a "spin to win" discount where users can opt in to win a large discount on your website.
Coupon Wheel puts a very unique "spin" on the idea of coupon codes and makes the whole process much more interactive than your regular discount plugin.
Features of the Coupon Wheel plugin:
Offer a completed unique way of getting discounts
Exit-intent popup technology to capture users as they are leaving
Gamification of the discount process
Self-hosted and managed
Integrated with email lead capture software and Zapier
Anti-cheat mechanisms to stop multiple spins from one user
Integrates with WooCommerce
Price: $29 with no free version
Plugin page: https://codecanyon.net/item/coupon-wheel-for-woocommerce-and-wordpress/20949540
Pros:
Mobile friendly
Compatible with cache plugins
Quick and easy to set up
Works well with WooCommerce
High rating by users
Affordable price
Cons:
May still be cheatable by users who really want to get that huge discount
Not all of your customers will love it and it could be considered off-brand for some companies
9. WooCommerce Volume Discount Coupons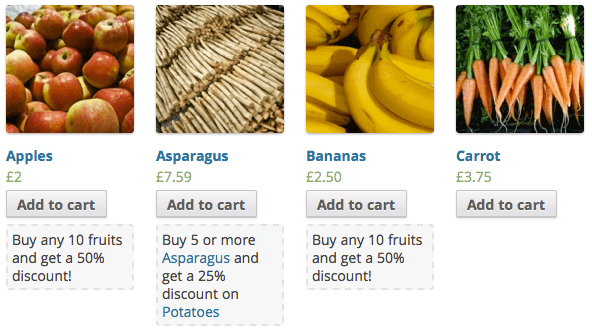 If you are looking to only offer discounts based on the volume that a customer purchases then look no further! This plugin is focused entirely on augmenting your regular WooCommerce coupon functionality with volume discounts and does it in a very lean and lightweight way.
Features of the WooCommerce Volume Discounts Coupons plugin:
Offer volume discounts to users based on a purchase amount
Showcase those volume discounts on product pages
Integrates and works nicely with WooCommerce
Price: $29
Plugin page: https://codecanyon.net/item/woocommerce-volume-discount-coupons/5539403
Pros:
Very focused plugin that does exactly what you need and nothing more
Works well with WooCommerce
Affordable price
Cons:
Originally created back in 2013
No major update for almost 12 months
10. YITH WooCommerce Gift Cards Pro
Offering gift cards is a great way to engage with your audience and get them loyally re-engaging with your business. Some people think of gift cards as an alternative to coupon codes, but they are essentially covering the same customer loyalty grounds.
In addition, many business now offer gift cards as incentives to users who buy frequently as a form of "in store credit".
There are many options out there but the Yith WooCommerce Gift Cards Pro plugin and the PW WooCommerce Gift Cards plugin (listed below) are both solid entries to this list.
Yith's plugin is one of the most detailed and feature rich gift card plugins for WordPress and it is awesome for helping you offer digital and physical/printable gift cards that people can redeem in the future.
Features of the YITH WooCommerce gift cards pro that we love:
Automatically send the gift card to the person after purchase
Gift cards can be customised with unique images and templates to showcase your brand
Set a minimum and maximum amount for customers to use on the gift card
Allow users to set their own custom gift card amounts
Integrate perfectly with WooCommerce, the most popular online eCommerce platform
Set an automatic expiration date based on the purchase date
So many more features, too many to list here but the above are some of our favourites
Price: $169.99 single site
There is also a free (lite) version with limited features. The free version is very basic only allowing you to create gift cards with a fixed amount.
Premium plugin page: https://yithemes.com/themes/plugins/yith-woocommerce-gift-cards/
Free plugin page: https://wordpress.org/plugins/yith-woocommerce-gift-cards/
Pros:
Automatic gift card sending
Create cards with unique designs
Set automatic expiration dates
Import existing card numbers and balances
View a list of the gift cards used already and manage them like a regular product
Versatile plugin that should suit most business requirements
Cons:
The cost is $169.99 which makes it one of the most expensive options out there
Other free or cheaper card plugins on the market that will do a similarly good job
11. PW WooCommerce Gift Cards

We are a huge fan of well made and supported plugins and PW WooCommerce Gift Cards certainly falls into that category.
At the time of writing the plugin had been update only 6 days earlier and the developers of the plugin show a clear love for their plugins that is reflected in the quality of the 5 star ratings they have.
For anyone wanting to offer discount coupons we highly recommend giving this plugin a shot.
Features of the WooCommerce Ultimate Gift Card plugin that we love:
Customers can specify amounts
Use WooCommerce email templates for a beautiful design
Can be used with the WooCommerce pre-orders plugin to offer a gift card coupon for pre-ordering a product
Solid analytics for website admins
Customer gift card balance page for easy customer management
Card expiry dates
Offer physical gift cards
Price: $49 with a solid free option
Free plugin page: https://wordpress.org/plugins/pw-woocommerce-gift-cards/
Premium plugin page: https://www.pimwick.com/gift-cards/
Pros:
Super positive ratings with a 5 star rating from 55 reviews
Regularly updated with over 4,000 active users
Feature rich, has everything you would need to offer quality gift cards
Nice design and customisable
Quick and easy setup that integrates with WooCommerce
Cons:
Most of the good features are locked behind the premium plugin
Admin management design isn't as good as the customer experience design
How best to offer coupon codes on your website
Its important to remember that offering coupon codes on your website does not undervalue or undercut your service. A lot of business owners make the mistake of discounting too much and too early.
The trick is to only offer discounts when:
You would have not already gained that customer from your regular pricing; or
You are rewarding customer loyalty with a discount to entice them to spend more
If you are discounting as the only way to get a customer then you should really consider whether your product is hitting the mark with the type of customer you are marketing to.
Last thoughts
There are some really amazing WordPress coupon code plugins out there in 2020, from the supercharged WooCommerce addons to the interesting and unique Coupon Wheel.
Discounting in general is a great way to give back to your customers. We encourage everyone not to be afraid to have fun with it!